This year more than ever we need your help to support the groups & charities who are at the frontline of supplying food & comfort to people who are struggling this Christmas.
There has been an increase in people accessing emergency food across Brighton and Hove, exacerbated by Covid-19.  Research shows that families and those living with long term mental and physical conditions are more likely to need help to afford food. The second lockdown, heating bills, furlough and further Covid-19 related job losses are making life tough for many.
How can you help?
There aren't very many volunteer opportunities this year, I am afraid to say, as there are more people who want to help out than places, unless you have a car and can drive to pick up or deliver food (in which case we highlight opportunities in the listings below).
However, if you want to help your local food bank or community organisation, why not consider undertaking some fundraising for them?  Donating money is a great way to support them, as goods need to be stored somewhere, but money can be spent on items that can't normally be sourced through donations. We want to make sure that emergency parcels are healthy, nutritious and give people the dignity that they deserve.
Don't let your neighbours go #HungryAtChristmas
We are fundraising on behalf of 18 AMAZING organisations this year to help ensure no-one goes hungry over winter. Please donate what you can, help us spread the word and consider fundraising on our behalf:
The organisations involved range from food banks to women's centres, community markets and lunch clubs.  We are fundraising with: Real Junk Food Project Brighton, Sussex Homeless Support, Brighton Women's Centre, Phoenix Club, East Brighton Food Coop, Purple People Food Bank, Brighton Food Bank, Vale Community Centre Food Bank, Lunch Positive, Food & Friendship, Very Local Food Hubs, St Mary Magdalen Church Coldean, Moulsecoomb Community Market, Weald Community Food Centre, Feedback Belta Kitchen, Pankhurst Club and for the Food Partnership's emergency parcels which are being delivered from the Brighton Centre. DONATE HERE.
We are also holding a brief online event to share inspiring stories about how the city responded to Covid-19 and its impact on food, and how you can help.
Here are all the other ways you can help
Don't forget that if you donate food, it needs to have a long shelf-life, e.g. any mince pies need to last until Christmas otherwise they might go off before anyone gets them.
BMECP Centre are raising money to help support their new food bank, you can also donate items.
Balfour Mutual Aid Food Bank need donations through their crowdfunder or they are asking for donations for a reverse advent calendar:
The Bevy Pub are asking for donations to cover their meals on wheels service which provides hot meals across Moulsecoomb and Bevendean. You can donate here or email contact@thebevy.co.uk if you would like to volunteer.
Brighton Food Bank are asking for people to donate the following items to them – contact must be made in advance of dropping food at the door. Please contact them first on 01273 695330, or by emailing foodbank@bhcm.org.uk. You can also order online deliveries via supermarkets to be delivered to: Brighton Food Bank, Calvary Church building, Stanley rd, BN1 4NJ between the hours of 10am and 4pm Monday to Thursday.
Brighton Table Tennis Club are providing food parcels and cooked meals to around 500 people each week. Donate by visiting the campaign page on their website.
CASE (Community, Advice, Support and Education) are recieving donations of food and are open 10am – 2pm Tuesday to Friday.
Chomp will be sending out 100 Christmas Hampers to families in need the week before Christmas.  They are asking for Christmas Hamper donations to be delivered to them at:
One Church, Gloucester Place BN1 4AA
Thurs 10th Dec 9.30am – 7pm  
Fri 11th Dec  9.30am – 5pm
They have put together a list of item ideas for the hampers: virgin olive oil, jam, pasta sauce, pasta, Shloer (or other quality bottled drink), tinned fruit, peanut butter, non-alcoholic mulled wine, shower gel, kids bubble bath, washing up liquid, cosy slipper socks for mums, and felt tip pen sets.
The Clock Tower Sanctuary are running a winter appeal to give young homeless people support over the winter months including a Christmas meal, a gift box and case-work support. You can donate to their winter appeal here.
East Brighton Food Co-operative run a daily freshly made nutritious meal service, delivered citywide from East Brighton, including meals for Christmas Day.  They will also be providing a Christmas gift with the help of the Manor Gym. They are looking for donations of food for Christmas hampers, mens & ladies toiletry gift sets, toys & treats. Please drop donations at The Manor Road Gym, Manor Road, BN2 5EA. They are also in need of volunteers to help with cooking and deliveries throughout December and January and can be reached on Facebook here.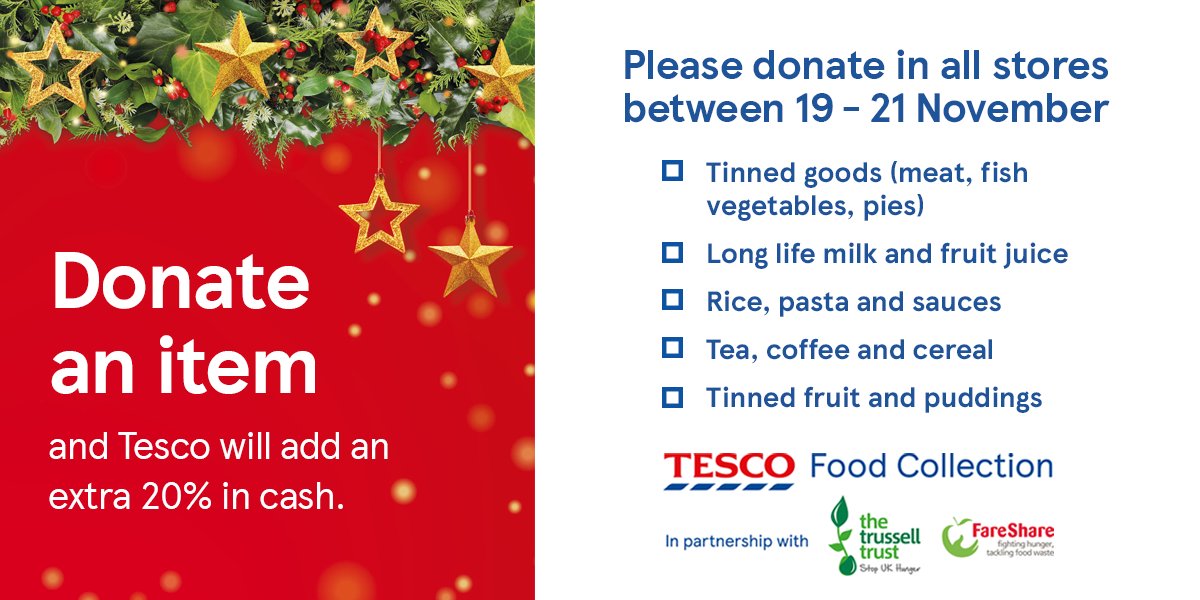 Fareshare UK are running a Tesco food collection where Tesco will add 20% in cash to every item donated in-store. You can also make a financial donation here.
Fareshare Sussex are raising funds to deliver surplus food to over 140 organisations who feed hungry people in Brighton.  Make one donation with twice the impact by donating to FareShare Sussex's Christmas Appeal. Every pound you give is matched like-for-like. For donations to be doubled you must donate via the Big Give during the week-long appeal starting midday on Tuesday 1st December. SO HOLD FIRE UNTIL 1ST DEC!
Hangleton & West Blatchington Food Bank are accepting donations of savoury and sweet food in decorated boxes or bags to serve as reverse advent calendars. They are open every Wednesday 11:30am – 2:30pm and would like all donations by Wednesday 9th December.
Moulsecoomb Community Market are making up a hamper for each member.  They would like donations of cranberry sauce, bread sauce, stuffing mix, turkey gravy, any pickles, any savoury biscuits, packs of dates or nuts.  Any chocolate – bars, boxes or children's treats, xmas puddings, mince pies, trifle kits.  Nice 'smellies' – including toiletries for men, too.  In an absolutely ideal world, they would like to be able to provide some cheese, milk and cream but also meat. A chicken for each family would be great (including several that are halal) if there are any generous butchers or supermarkets out there.
They need volunteer help to make the hampers, covering the boxes in xmas wrapping, etc. They are also desperately short of people with cars. It would be good to have a small team of driver volunteers who could collect donations (at short notice sometimes) or deliver between places.  They always need this help and the more people they can sign up, the less often people will be asked.
Items can be brought to St George's Hall, Moulsecoomb anytime between 9:00am and 12:30pm on Wednesdays
Purple People Kitchen Food Bank are requesting donations of food & toiletries. Drop off donations on Fridays, 9.30am-2pm at Portslade Town Hall, Victoria Road, Portslade, BN41 1YF.
St Mary Magdalen's Church in Coldean is looking for volunteer drivers who can help out with deliveries – hot meals on Monday 21st (ready at 12pm), groceries on Wednesday 23rd (bags ready by 12.30) and on Christmas Day (hot food ready by 2pm). They are also running a baby bank and accepting donations of children's clothes and toys (no cuddly toys) in very good condition. Contact Reverend Betsy if you are interested in volunteering or donating.
The Salvation Army, Brighton Congress Hall are collecting presents for families who are struggling this year. Donations of unwrapped toys for all ages can be left at their charity shop during normal opening hours. They also welcome donations to their fund to purchase toys, which can be made on their JustGiving page here.
Hove Salvation Army and Bevendean Salvation Army are collecting Christmas
presents for families with children who are struggling financially at Christmas time.  They do try to add a hamper of a few festive foods, but any festive foods would preferably need to be with them by Dec 16th to ensure they can despatch them in time.
Anybody wishing to make a monetary donation in lieu of actual presents, festive foods, or general food bank stock can continue to donate on their JustGiving page.
Sussex Homeless Support accept food and other donations. They are providing meals on Wednesdays at 5pm and Sundays at 1pm at the Clocktower, every week. They work seven days a week so it's easy to donate to them, contact via Facebook.
Vale Community Centre Food Bank have requested cereal, tins of fish/ meat/ veg/ fruit, tea, UHT milk, biscuits, long-life fruit juice or squash, toilet rolls, toiletries, soap or dog & cat food (they cannot accept chilled food).
Please contact Amy on 07423 838 429 if you wish to drop off any supplies at the Vale Community Centre, Hadlow Close BN2 0FH between 12:30 and 15:30 on Fridays (or for any other reason).
Voices in Exile are a food bank for refugees and asylum-seekers with no recourse to public funds. Requested donations: pasta/ lentils/ rice, dried or canned foods (tuna, sardines, tomatoes, fruits, chickpeas, olives etc), cooking oils, salt, pepper, spices, tea, coffee, sugar, long life milk, toiletries male & female, toothbrush/ toothpaste, shampoo /conditioner, body wash, soap, nappies, baby formula/ wipes, period products (pads NOT tampons), toilet roll, tissues, cleaning products.
Drop off at 36 Upper Bedford Street, Brighton, BN2 1JP and best times to drop off food are Tuesday's 11-1pm, Thursday's 10-1pm and Friday's 12-3pm, but their last date for receiving food this year is 23rd Jan. Please contact administrator@voicesinexile.org or 01273 328598 to arrange.
Voices in Exile also need a volunteer to help with their social media, if you are interested please contact them.
Whitehawk Food Bank are running a 12 days of Christmas challenge where you complete 12 different steps to help support their food bank.  Info about the types of donations and how to drop off are available on their website.
Donate egg boxes and toiletries
Here at the Food Partnership we are asking for donations of eggboxes as there is a national shortage.  We are also asking for donations of toiletries that we can share with food banks.  Think shampoo, conditioner, toothpaste, soap etc. Thank you for saving your egg boxes for us.
Please see below for our list of drop off points.
Brighton City Centre – egg boxes & toiletries
The Community Kitchen, 113 Queens Rd, Brighton BN1 3XG
15th December 1.30pm-6pm & 18th December 9am-12pm
Please wear a face-covering when dropping off donations
Hove – egg boxes & toiletries
34a St Aubyns, Hove, BN3 2TD
Please leave on doorstep if no-one is home
Hanover – egg boxes and toiletries
46 Jersey Street, Brighton, BN2 9UA
Lewes Road area – egg boxes and toiletries
14 Devonian Court, Brewer Street entrance, BN2 3HG – gate code 0302
Please place on right hand side of blue doors.
East Brighton – near the Marina – egg boxes only
Flat 7, 11 Chichester Terrace, Brighton, BN2 1FG
Please leave on doorstep if no-one is home
Seven Dials – egg boxes and toiletries
Age UK, 29 Prestonville Road, Brighton, BN1 3TJ
Monday – Friday 9am – 3pm
Please ring the bell and leave inside the automatic doors or leave on doorstep if no answer
Events
Case Central is organising "A Visit to Santa" on Saturday 19th of December for families on low incomes at St. Richards Community Hall in Hollingdean.
Families will be given an appointed time to come to the Hall to find Santa. On finding Santa each child will be given a Christmas present and each family will receive a Christmas hamper. "A Visit to Santa" is free and is open to families entitled to income based benefits (e.g. Universal Credit, income based Employment Support, Allowance or Jobseekers Allowance, Housing benefits, Working Tax Credits and Child Tax Credits).
In the event of a second lockdown Father Christmas will deliver the Christmas presents and hampers to the door.
To book a place contact CASE 4 Crestway Parade, Brighton BN1 7BL, tel. 01273 540717
Places will be limited so book early.  In the event of a lockdown they would welcome help in delivering the Christmas presents and hampers.
Getting help for yourself or someone else
If you or someone you know cannot afford to eat, please contact the helpline in Brighton to get access to food vouchers or a referral to a food bank.
Please see our page about where to get access to low-cost or free meals (and Christmas day lunches!).
If you have any queries please contact info@bhfood.org.uk or ring 01273 234810.
You may also be interested in: